F8 Keynote, Tuesday


2018 May 01, Mark Zuckerberg
The past year was a bit tough for Facebook, notably a security breach and the fake news storm. So it was informative to attend the Facebook keynote lead by Mark Zuckerberg. The good news to me is that Zuckerberg took the issue on directly and with self-deprecating humor.
Following is a photo of Zuckerberg talking about the new Facebook Watch Party, poking fun at watching his "party" before the U.S. Congress: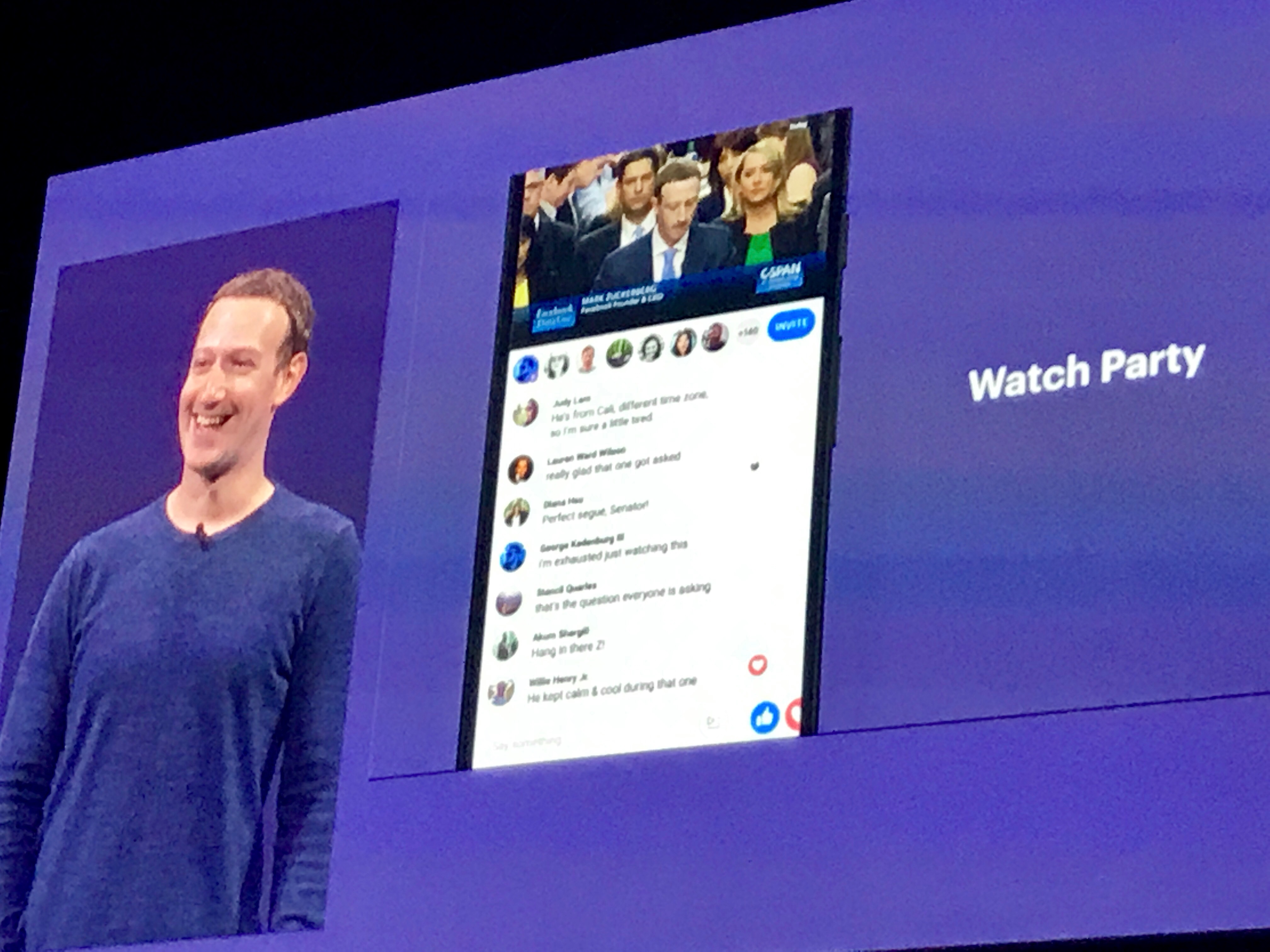 He said "we need to design technology that will help bring people together." And regarding the integrity of our elections confessed "we were slow to detect Russian interference." Zuckerberg's message was that if we don't work on solving these problems the world won't move in this direction by itself.
Specifically regarding fake news he pointed out that Facebook will focus on:
spam: take down their ads, build tools
fake accounts, find bad actors, rogue states
people sharing probably false hoaxes
An interesting new feature coming to Facebook is a fact-checker. It is purported to provide the user with background information and source to aid in determining its veracity.
Facebook will start restricting data that developers can request from people, search for bad apps to ban them if an audit proves them to be nefarious, and will provide new developer tools (details not specified).
Facebook will also add a clear history feature, similar to how web browsers can clear history and cookies. And there will be an option to turn history off altogether. Zuckerberg notes that this might make the user experience worse just like a browser but should nonetheless be in user's control.
---
Regarding not as serious matters, Facebook announced enhancements to Groups and a new "carefully" designed dating feature. Instagram is releasing a new Explorer that is more focused on the user's interest, adding video chat, and adding augmented reality (AR) camera effects. Instagram has a comment filter and is now adding an anti bullying feature. WhatsApp is adding a group video calling feature and improving or expanding features like status and business connections. Messenger is adding AR camera effects like Instagram and doing some simplification. There is a lot of focus at F8 on Messenger as a conduit between users and businesses including chat bots, in app purchases, and virtural reality (VR). Messenger's new customer chat plugin looks nice; use Messenger on your website for a customer to chat with your business. One example showed a 16% open rate for email sent to customers versus a 90% open rate for Messenger messages. Messenger will also provider translations: chat between people speaking two different languages and the message is automatically translated.
Virtual reality is a hot topic and Facebook made a few VR announcements. The most fanfare is around Oculus Go, their new VR hardware. You wear Oculus sort of like glasses and enter a VR world of entertainment and information. The Oculus software provides 1000+ apps and games, Oculus TV, and a partnership with Hasbro to bring board games to the platform. Bonus: each attendee to F8 gets a free Oculus Go! The Go begins shipping this month.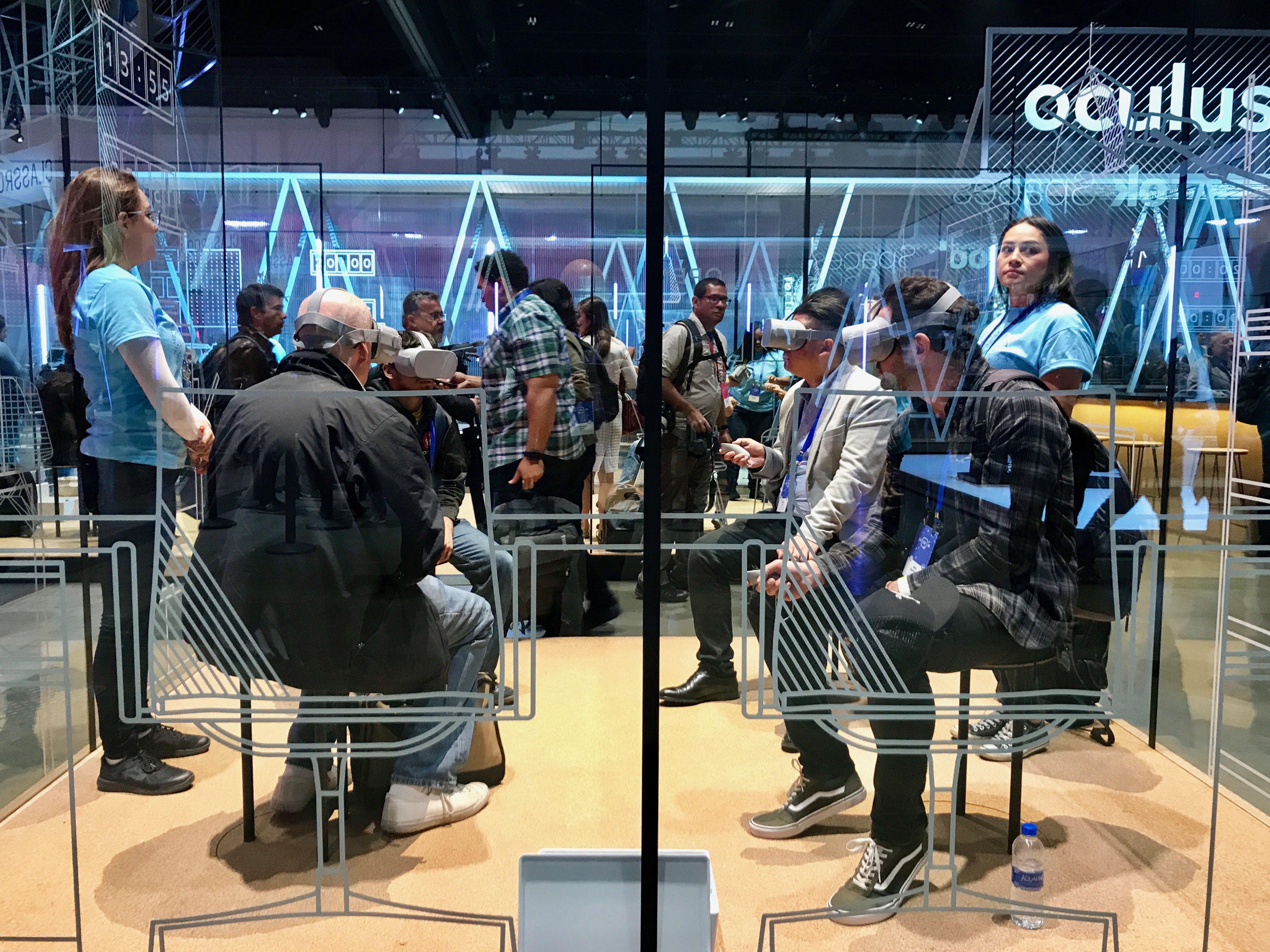 A cool new VR product in development will bring back memories based on photos and videos. You upload your media and it recreates a virtual world for you to explore. It creates a pointillism looking view of your memory. I don't remember the name of this new product.
Zuckerberg concluded with "we bring people together. Keep building!"